All press releases
Press release
November 18, 2019
ABB partners with Exeger to speed up world's transition to clean energy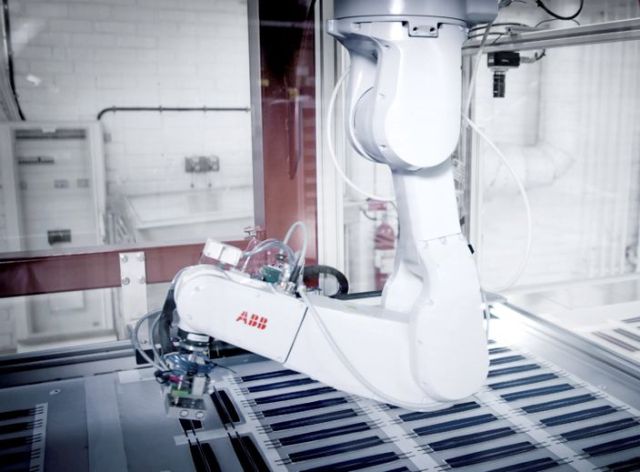 The partnership will enable Exeger to enhance the production quality of their unique photovoltaic material in its Stockholm factory and develop automation solutions for Exeger's new, state-of-the-art, fully automated factory which will begin construction in the near future.
NOVEMBER 19, 2019 – STOCKHOLM, SWEDEN – ABB today announced a new partnership with Sweden's Exeger Operations AB.
Exeger's material is unique on the market, with the patented photovoltaic technology enabling light-charging both outside in direct sunlight and in low or artificial light inside the home. Through integration in consumer electronics and smart home products, the user experience is greatly enhanced with substantial increase in battery life.
"ABB's unparalleled knowledge in automating factories and their portfolio of smart robotics solutions is a perfect fit for our ambitions to quickly scale up our solar cell manufacturing process. By fully automating production with ABB's high-efficiency robots, we can lower the energy payback time of every solar cell produced, thereby helping the people reduce their carbon footprint," said Exeger's CEO Giovanni Fili.
The technology partnership consists of three key projects. First, ABB is supplying its robotics and automation technology to increase the level of automation in Exeger's ex-isting factory in Stockholm. With best-in-class motion even at high speeds, robots including the IRB 1200 and IRB 910INV SCARA are designed to meet Exeger's need for fast and repeatable point-to-point accuracy in manufac-turing the light-charging material onto different and complex surfaces. Second, ABB has created a dedicated engineering team in Sweden to assist Exeger in creating specialized solu-tions that will be developed for a new, state-of-the-art fully automated factory that Exeger will begin building in Sweden in the near future. Third, ABB will evaluate the potential for Exeger's solar cells to be incorporated into future ABB products, helping reduce the environmental impact of ABB and its customers worldwide. One example could involve utilizing Exe-ger's solar cell technology to power advanced sensors.
"With the ever-growing demand for clean energy solutions from our customers we are keen to support and ena-ble companies with a clear agenda to drive innovation and help accelerate the world's transition towards clean energy," said Dennis Helfridsson, Head of ABB's Robotics and Discrete Automation Business and Country Manager for ABB in Sweden.
"To help Exeger realize its long-term strategy of helping restore the carbon balance of the planet, ABB's automation technology will help Exeger's new factory process up to ten times the annual production capacity of its current factory. We are excited to be at the beginning of our journey with Exeger and look forward to the mutual benefits that our shared technologies and innovation will bring," said Helfridsson.
FÖR MER INFORMATION KONTAKTA
Karin Carlström
Brand and Marketing Manager
about exeger
Exeger is a Swedish company with a unique solar cell technology that converts all forms of light into electrical energy. This material, Powerfoyle, is the world's only fully customizable solar cell. With its superior design properties, it can be integrated seamlessly into any electronic device.
Powerfoyle enhances every product it is integrated into with extended or even unlimited battery life, putting the power of cutting-edge solar cell technology directly in the hands of people. Exeger is leading the way to energy independence through more sustainable and user-friendly products – with the vision to touch the lives of a billion people by 2030.
For more information visit:
www.exeger.com
www.powerfoyle.com