All press releases
Press release
January 27, 2022
Exeger and NGK INSULATORS, LTD. (NGK) partner to strengthen product ecosystem and enter new markets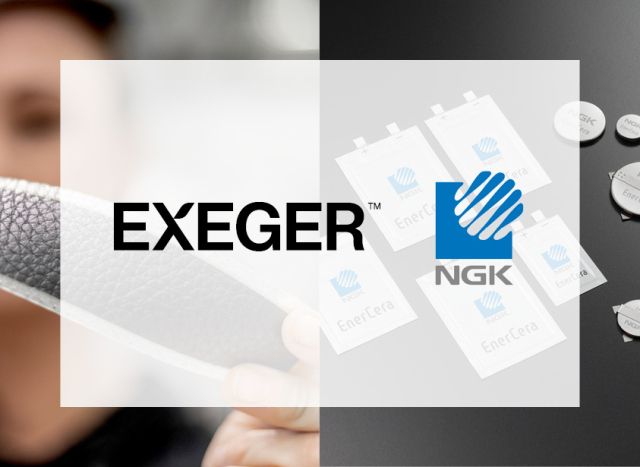 Exeger and NGK INSULATORS, LTD. (NGK) partner to strengthen product ecosystem and enter new markets
JANUARY 27, 2022 – SWEDEN AND JAPAN – Swedish industrial company Exeger today announces that it has partnered with Japanese ceramic technology company NGK. The partnership will enable both companies to expand into new sectors and reach additional markets by offering manufacturers low-power solutions and devices with prolonged or infinite battery life.
Each company produces dynamic components. Stockholm-headquartered Exeger being the inventor and maker of Powerfoyle®, which converts all forms of light into clean, endless energy. Nagoya-headquartered NGK developed semi-solid-state lithium-ion rechargeable EnerCera® batteries made of proprietary crystal-oriented ceramic plates impregnated small amount of liquid electrolyte and started mass production in 2019. EnerCera batteries can withstand more charging cycles than other Lithium-ion batteries, which makes it unique and a good fit with Powerfoyle.
Exeger and NGK will work closely to strengthen respective manufacturing capacity and capabilities, and enable each to bring products to market, in areas such as Internet of Things (IoT) and electronics (such as e-shelf labels, sensors and remote controls). Exeger and NGK, coming together, sets in motion a partnership which will form the basis of the future of power.
"In 2021 we launched our Powerfoyle technology by introducing self-powered products in different markets", says Giovanni Fili, founder and CEO of Exeger. "We need to continually evolve and strengthen our technology to have a transformative impact on society and reach our vision to touch the lives of a billion people by 2030. Our partnering with NGK will help us expand our production and manufacturing offering and continue to push into new markets and sectors."
"With features such as low resistance, high capacity, and long life, EnerCera batteries are an ideal energy storage device for IoT devices combined with Energy Harvesting because it can efficiently charge the small power from indoor light PV cells store it for long periods of time and provide high enough output to power MCU(Micro Controller Unit)s and sensors," adds Iwao Ohwada, Vice President, General Manager, Advanced Device Components Div., Electronics Business Group, NGK. "Combined with Powerfoyle technology, we will promote the development and popularization of maintenance-free IoT devices."
Both Exeger and NGK were on the ground at CES 2022 in Las Vegas, showcasing their groundbreaking technology. Exeger was a CES Innovation Award Honoree and in 2021, Giovanni Fili was named European Inventor of The Year by the European Patent Office within the SME category.
about exeger
Exeger is a Swedish company with a unique solar cell technology that converts all forms of light into electrical energy. This material, Powerfoyle, is the world's only fully customizable solar cell. With its superior design properties, it can be integrated seamlessly into any electronic device.
Powerfoyle enhances every product it is integrated into with extended or even unlimited battery life, putting the power of cutting-edge solar cell technology directly in the hands of people. Exeger is leading the way to energy independence through more sustainable and user-friendly products – with the vision to touch the lives of a billion people by 2030.
For more information visit:
www.exeger.com
www.powerfoyle.com
ABOUT NGK INSULATORS, LTD.
NGK INSULATORS, LTD. (NGK) is a leading company in the field of ceramics. Since its foundation in 1919, NGK has used its unique ceramic technology to provide numerous ground-breaking products that solve social issues. Today, NGK is active in more than 20 countries worldwide, with business foci including mobility, energy, IoT and industry. As one of the largest manufacturers of ceramic substrates for automotive catalytic converters, NGK is actively reducing the strain on our global environment. Furthermore, NGK's products include the energy storage system "NAS" batteries, in addition to the compact, thin, and high-energy-density lithium-ion rechargeable battery "EnerCera" series, vital tools for sustainable energy infrastructure. Through providing innovative, high-quality products, NGK is committed to contributing to our society. In order to create a future where people can coexist with nature, NGK will continue to develop and provide products that support social infrastructure while preserving the environment.
For more information visit:
www.ngk-insulators.com/en/