All press releases
Press release
January 04, 2023
Exeger and Ohsung Electronics unveil a battery free, light-powered remote at CES 2023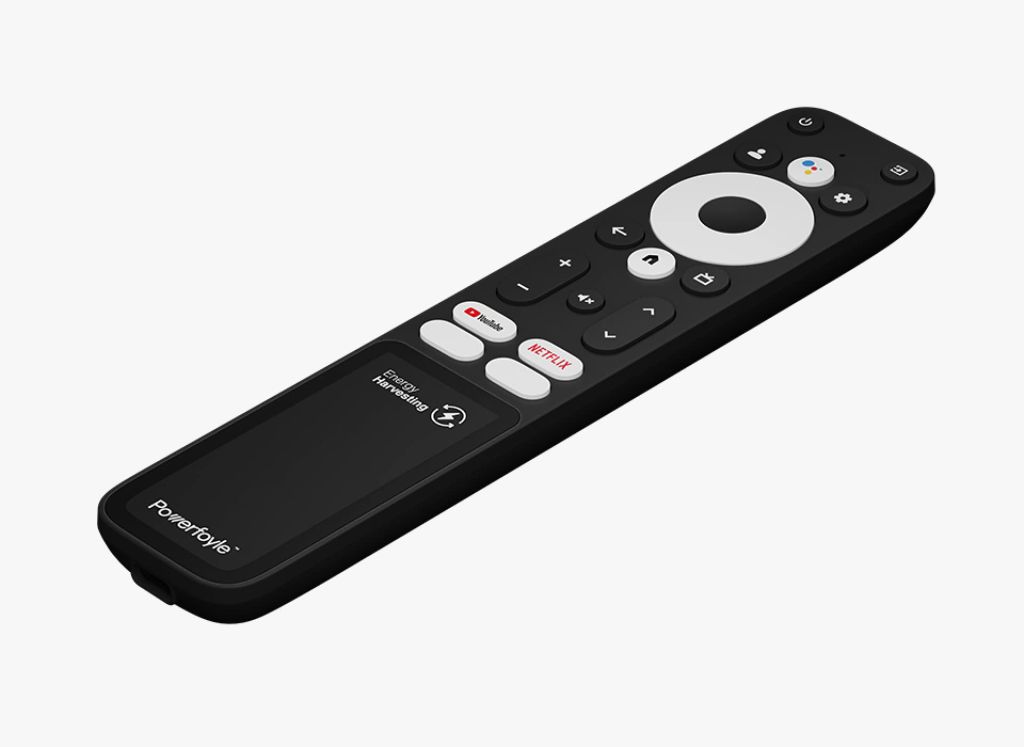 JANUARY 4, 2023 – LAS VEGAS, USA – OHSUNG Electronics (www.ohsungec.com), leaders in remote control manufacturing, will be unveiling REY – a battery-free, light-powered TV remote control at the Consumer Electronics Show (CES) 2023 (Thu, Jan 5th, 2023 – Sun, Jan 8th, 2023, in Las Vegas).
The remote has been designed in collaboration with Swedish deep tech company, Exeger (www.exeger.com). It features the company's Powerfoyle™ technology, the world's only fully customizable solar cell. Thanks to Exeger's unique printing technique, the solar cell can be made in almost any shape or form with over a hundred different patterns and textures available making it possible for brands to integrate Powerfoyle while retaining the design DNA of their products. Powerfoyle converts all forms of light, both natural outdoor light and ambient indoor light, into clean, endless energy. REY utilizes Powerfoyle Indoor, Exeger's low-light platform, which is optimized to work exceptionally well in low-light levels, thereby making it perfect for products in the smart home and IoT sectors.
The primary goal of REY is to offer an eco-friendly TV remote control and set a standard for sustainability in the market. By integrating Powerfoyle, Ohsung Electronics was able to eliminate the need for batteries in the REY. Instead, the solar cell technology is coupled with a hybrid supercapacitor resulting in a completely self-powered remote control where users never have to worry about changing or charging the batteries, allowing for a truly seamless experience.
"For the first time ever, we are bringing to market a self-powered, battery-free consumer electronics product."

Giovanni Fili, Founder and CEO of Exeger
"What we have done with Ohsung Electronics is remarkable. For the first time ever, we are bringing to market a self-powered, battery-free consumer electronics product," said Giovanni Fili, Founder and CEO of Exeger. "This will enable brands to take a leap forward in their efforts to meet their environmental targets by eliminating the huge waste we see in disposable batteries. We work tirelessly to set a new standard within the smart home and IoT markets and together with Ohsung Electronics, I believe we will accelerate the adoption of more sustainable technologies like a Powerfoyle."
"We're putting a lot of effort into delivering an eco-friendly and sustainable product," emphasized Ken Kim, Global CTO, at OHSUNG Electronics. "The battery-free remote-control powered by Exeger's solar cell is a revolutionary new remote which can save up to 4 billion TV remote-control batteries every year from being discarded. Our partnership with Exeger is critical to reach a minimal carbon footprint for the product."
"Being able to adopt these new technologies into remote controls is a development with real benefits for end users, operators and the environment," commented Oliver Teece, MD at TW Electronics."Powerfoyle lets us create a remote-control device for clients with the energy harvesting performance and quality they expect and marks a step change in the direction the industry is travelling. Battery free remote controls are the future!"
Powerfoyle Indoor has won honoree awards in two categories at the CES 2023 Innovation Awards: Sustainability, Eco-Design & Smart Energy, and Embedded Technologies, highlighting the industry's recognition of Powerfoyle's contribution to sustainability in consumer electronics and the technology's unique design integration possibilities.
about exeger
Exeger is a Swedish company with a unique solar cell technology that converts all forms of light into electrical energy. This material, Powerfoyle, is the world's only fully customizable solar cell. With its superior design properties, it can be integrated seamlessly into any electronic device.
Powerfoyle enhances every product it is integrated into with extended or even unlimited battery life, putting the power of cutting-edge solar cell technology directly in the hands of people. Exeger is leading the way to energy independence through more sustainable and user-friendly products – with the vision to touch the lives of a billion people by 2030.
For more information visit:
www.exeger.com
www.powerfoyle.com
ABOUT OHSUNG ELECTRONICS
Ohsung is a global leading remote-control manufacturer and owns several productions globally.
Ohsung equipped with remote-control technology keeps expanding its customer base and enhancing its Q.C.D (Quality, Cost and Delivery) capabilities to offer the best service.
Ohsung is an official Google Reference Remote-Control supplier.
For more information visit:
www.ohsungec.com