All press releases
Press release
August 10, 2022
Exeger partners with Urbanista to launch true wireless earphones with endless playtime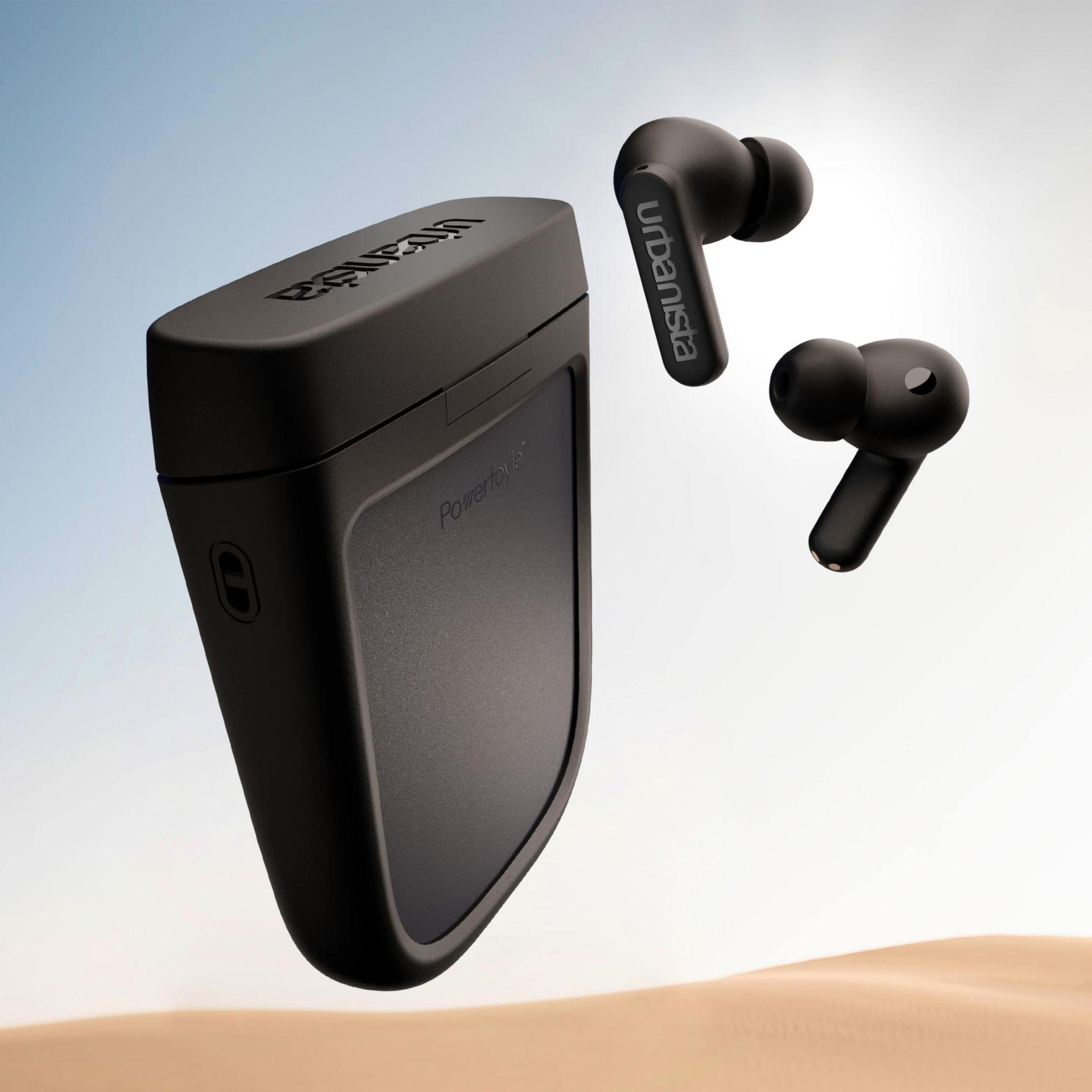 The launch marks the next phase in the two companies' partnership, which was first announced following the launch of Urbanista Los Angeles, the world's first self-charging over-ear headphones in 2021.
AUGUST 10, 2022 – STOCKHOLM – Exeger (www.exeger.com), the Swedish innovation company, together with Urbanista (www.urbanista.com), the Swedish lifestyle audio brand, today announces the launch of Urbanista Phoenix, the world's first true wireless earphones with endless playtime.
Urbanista Phoenix is inspired by the breathtaking desert scenery of Arizona, one of the sunniest places on Earth, and utilizes Exeger's Powerfoyle, a groundbreaking solar cell material that converts all forms of light into clean, endless energy. The earphones continuously self-charge when stored in their case and exposed to any form of light, whether natural outdoor light or artificial indoor light.  
Exeger's mission is to lead the way towards a future powered by smarter, more sustainable products. By continuously innovating, Exeger is reimagining charging and constantly working hard to ensure the performance of its patented solar cell is as efficient as possible. With the integration of Powerfoyle into Urbanista Phoenix, both battery life and health are significantly improved. This increased performance can only be achieved via the integration of Powerfoyle and marks a considerable leap forward in innovation for both companies.
At a time of soaring energy prices, which, by the end of the year, are expected to rise by 50.5% globally according to this April's Commodity Markets Outlook report, the launch reflects the growing economic demand for non-grid-dependent appliances. Urbanista Phoenix provides a convenient, sustainable, and user-friendly alternative to earphones that charge from the wall.
The launch of Phoenix comes at a time of impressive growth for the earphone and headphone market. According to a report by Market Research Future, the sector is due to grow at a rate of 11.2% every year until 2030 where it is estimated it will be worth approximately USD 62 billion.
Urbanista Phoenix marks the next phase in Exeger and Urbanista's partnership which was announced in 2021 with the launch of Urbanista Los Angeles, the world's first self-charging over-ear headphones. Powerfoyle was born from over a decade of research and development at the Exeger facilities in Stockholm, Sweden, and Phoenix is the next step in the evolution of consumer products that, without the need for cables or plugs, always remain charged.
"I couldn't be more excited for the launch of Urbanista Phoenix and what it represents," comments Giovanni Fili, founder and CEO of Exeger. "We're looking to create an entirely new category of consumer electronics that will change the way we go about our daily lives. As concerns surrounding global sustainability efforts continue to mount, there is considerable demand for light-powered products like Urbanista Phoenix. We are continuously working hard to further improve cell performance and open up new and exciting verticals to enter into. As our ongoing partnership with Urbanista grows, our visions continue to align, producing impeccably designed products that focus on user experience."
Tuomas Lonka, Brand and Marketing Director at Urbanista continues: "It's a privilege to continue on this path of innovation together with Exeger and use the latest in solar cell technology to bring ground-breaking audio products to market. Our Los Angeles self-charging headphones were so well received by customers and consumers alike, that we knew right away that we wanted to apply this futuristic way of consuming audio to a true wireless design. Urbanista Phoenix really is a market leading product, and we are excited to see how these shape the future of our listening experiences in years to come."
Consumers who wish to purchase the earphones can sign up to get notified when the product becomes available for pre-order at www.urbanista.com.
about exeger
Exeger is a Swedish company with a unique solar cell technology that converts all forms of light into electrical energy. This material, Powerfoyle, is the world's only fully customizable solar cell. With its superior design properties, it can be integrated seamlessly into any electronic device.
Powerfoyle enhances every product it is integrated into with extended or even unlimited battery life, putting the power of cutting-edge solar cell technology directly in the hands of people. Exeger is leading the way to energy independence through more sustainable and user-friendly products – with the vision to touch the lives of a billion people by 2030.
For more information visit:
www.exeger.com
www.powerfoyle.com
ABOUT URBANISTA
Urbanista was born in 2010 in Stockholm, Sweden out of love for cities and urban life. Our products are rooted in Scandinavian design tradition and inspired by music, arts, fashion and urban culture. We believe that lifestyle audio products should not only sound great, but also look good. Today, our products are available in over 90 countries, and sold in 30,000 stores worldwide.
For more information visit:
www.urbanista.com