All press releases
Press release
February 16, 2021
Swedish Exeger introduces self-powered products – first out Omne Eternal by POC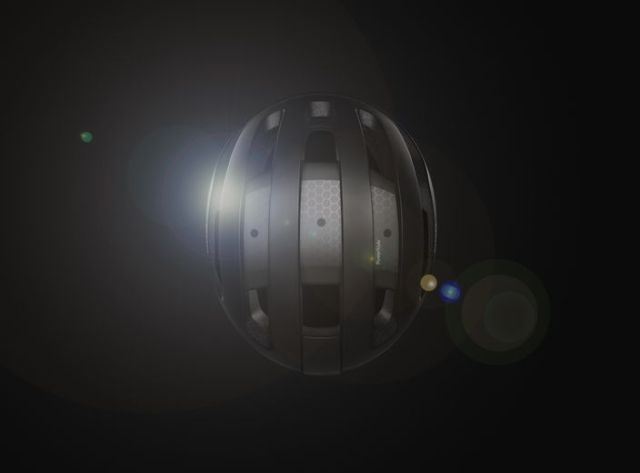 The first commercial partnership with POC now leads to an industry first self-charging helmet, "Omne Eternal", powered by Exeger.
FEBRUARY 16, 2021 – STOCKHOLM, SWEDEN – Exeger launch "Powerfoyle," their patented solar cell material with the unique ability to convert all forms of light into electricity paves the way for a new era of self-powered consumer products.
This new, self-powered helmet with an integrated and automatic rear light marks the beginning of new possibilities for consumer markets. The rider only needs to put on the helmet, the rest just works. The battery is constantly charging by the light around you, the rear light automatically turns on when it gets dark. The seamless experience provided in the POC Omne Eternal is a key element to enhance rider safety. With a new type of solar cell from the Swedish company Exeger, it is now possible to produce self-powered products. The material, Powerfoyle, has a unique ability to transform all forms of light, from sunlight to lamps, into electrical energy. The material is adjusted according to the product's application area and the type of light that it primarily will be exposed to. Regardless of being indoors or outdoors, the product is self-powered through the material.
Exeger Founder and CEO, Giovanni Fili, explains – "The key to successful consumer products is an effortless and seamless user experience. Exeger has invented, developed and can now provide our world-changing technology. It just works! And Exeger's Powerfoyle brings uncompromised aesthetics with endless energy to the world, starting with the helmet industry. Our journey to improve the lives of a billion people starts with POC, a truly innovative company that can now push the boundaries of what a helmet can do thanks to Powerfoyle."
POC CEO, Jonas Sjögren, added, "Our 'Whole helmet concept™' illustrates that in today's world a helmet can, and should, do significantly more than manage impacts. By integrating digital solutions, we can protect a user before, during and after an accident. Integrating Powerfoyle opens a world of new opportunities, creating helmets with an endless power source is the key to unlocking new ideas and innovations which have the potential to revolutionize safety." The launch of Powerfoyle is the start of a commercial breakthrough for Exeger, with several more products coming in 2021. After 12 years of development, the company has built a full-scale factory in downtown Stockholm to produce their patented solar cell technology. A second, mass-scale facility will be ready by 2023 to provide the revolutionary light harvesting material to the whole world and touch the lives of a billion people.
Exeger Founder and CEO, Giovanni Fili, continues: "The sustainable revolution of consumer products starts now. We have invented a completely new solar cell technology that will improve everyday life. There is no other material like it and our relentless focus on an effortless experience will drive adoption at mass-scale. Any product with integrated Powerfoyle is simply better than the alternative. It becomes a consumer choice where the effortless experience will drive mass adoption, accelerating the consumer driven journey towards a sustainable lifestyle."
ABOUT POWERFOYLE MATERIAL
The Powerfoyle material was invented and engineered for an effortless user experience. It converts all forms of light to electrical power – wherever the user may be. The material is screen-printed, in any shape or form to match any consumer product. It's produced in a variety of finishes, mimicking materials like leather, brushed steel, carbon fibre and many more, for complete seamless integration.
about exeger
Exeger is a Swedish company with a unique solar cell technology, that converts any form of light into electrical power. With its resilient, flexible and seamless design, the material (Powerfoyle) can be integrated into all products that benefit from being self-powered. Exeger brings endless energy to products through partnerships with leading companies on a global scale. By revolutionizing the perception of available energy, Exeger makes products both smarter and more sustainable – with the vision to improve everyday lives of a billion people.
ABOUT POC
POC, a leading manufacturer of helmets, eyewear, body armor and apparel, has been awarded more than 70 international safety, design, and innovation awards. Founded in 2005 in Sweden, POC's mission is to 'protect lives and reduce the consequences of accidents for athletes and anyone inspired to be one'.
For more information visit:
www.pocsports.com