Exeger is working with some of the world's best-known brands to co-develop products and solutions for a smart and sustainable future. Our material, Powerfoyle, has endless opportunities and can be integrated into any product or surface.
From our urban factory in Stockholm, we support partners all over the globe with their transition to self-powered products and solutions. A team of photovoltaics experts, engineers and designers will guide our partners from early feasibility studies, integration for mass production, and communication.
Are you next? Contact partnerships@exeger.com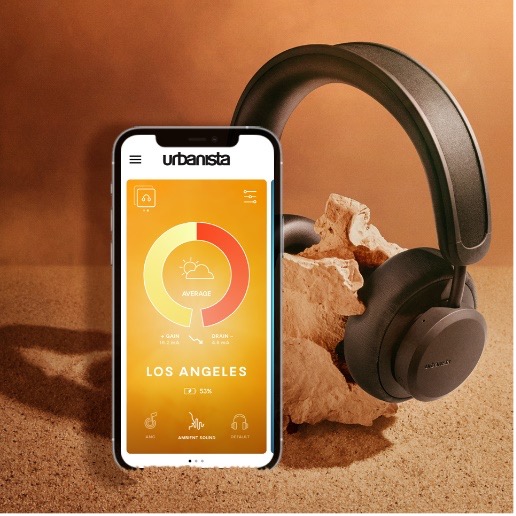 Urbanista
Exeger has partnered up with Urbanista, a Swedish lifestyle audio brand. Together we launched the Urbanista Los Angeles The Urbanista Los Angeles are the world's first self-charging wireless headphones.
The headphone is powered by Powerfoyle which converts all light, outdoor and indoor, into energy to deliver virtually infinite playtime. Los Angeles never stop charging when exposed to light, providing the user with a nonstop audio experience. The accompanying app for the Urbanista Los Angeles intuitively visualizes the benefits of solar charging.
By using the app, users can in real time see the effect different light intensities have on the battery. This ensures users optimize the placement of the headphones in their surroundings.
With existing consumer behavior, a normal user can experience virtually infinite playtime. Spending 20 minutes in the sun corresponds to adding 1 hour of listening.
This is the beginning of a new era for truly wireless products. The partnership has resulted in a product that fundamentally improves the user-experience, ushering consumers toward a world where your favorite gadgets are always charged.
adidas Headphones
There is a rapid growth and demand for more sustainable consumer electronics, and the world leading sports brand adidas teamed up with Exeger to produce sustainably conscious Sport headphones – powered by light.
The adidas RPT-02 SOL is part of Zound Industries portfolio brands. In designing these headphones, the focus has been to create a product with as much recycled plastics as possible with an immersive music experience. It is built to be durable, and with Powerfoyle, it is powered by light. The result is the first self-powered headphones for adidas with up to infinite playtime.
The RPT-02 SOL will have some motivational fun combined with the charging. There is a light indicator on the headphones that shows how well it charges in different light conditions. This will also educate the consumer where the headphone should be placed when not in use to get additional charge. It will also be applied to the app functionality and could be a motivational aspect to get out in the sun to exercise – an excellent way to utilize the energizing quality of light to power your performance and wellbeing and your headphone.
The RPT-02 SOL will be available in Q2 2022.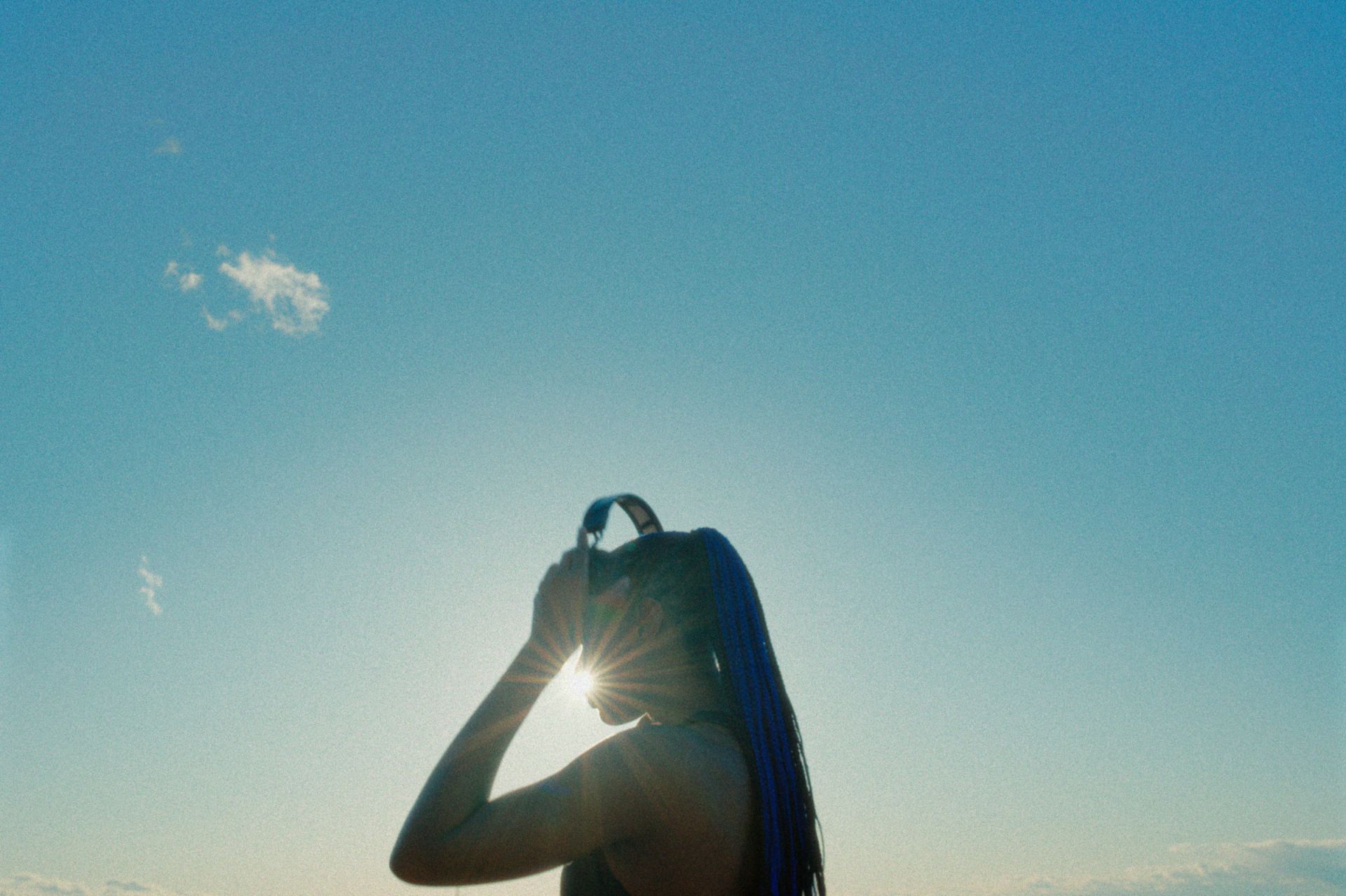 Blue Tiger
This will be the first communication headset on the market to be self-powered. The primary end-users are the USA professional truck drivers. They can spend up to 14 hours on the road and rely on their communication headset to be in constant contact with dispatch and other drivers.
The Solare headset will integrate Powerfoyle into the headband greatly enhancing battery life and potentially removing the need for charging. The product will initially be available in USA, Canada and Europe.

D3 Technical Partners has, in collaboration with Blue Tiger and Exeger, developed a communication headset for drivers that will be available in Q2.

The Solare headset has been selected as Honoree at the Consumer Electronics Show (CES) 2022 Innovation Awards.
C Security System
In October 2021 Exeger announced the entering the Internet of Things (IoT) sector in collaboration with C Security System (CSEC).
The first product from the collaboration will be the self-powered Spåra Hund, a dog harness with integrated Powerfoyle material and a built-in tracker.
CSEC offers cutting-edge sensor technology to protect people, animals and mobile assets. Integrating Powerfoyle into Spåra devices enables a new range of self-powered products for the tracker and pet tech markets. The first product from the collaboration is combining the tracking technology from CSEC and light-harvesting material Powerfoyle, will be a dog harness: Spåra Hund ('spåra' meaning 'track' in Swedish and 'hund' meaning 'dog'). The product couples the technologies to enable tracking capability and virtually endless battery life, two key features for the tracker and pet tech markets.
CSEC's products include GPS trackers that work with a wide range of mobile networks; setting them apart from their peers. The company´s unique and patented technology originates from an innovative tracker design and power saving methods. The integration of Powerfoyle enables Spåra devices, and other products within the IoT sector, to be self-powered.

Sales start June 13, 2022.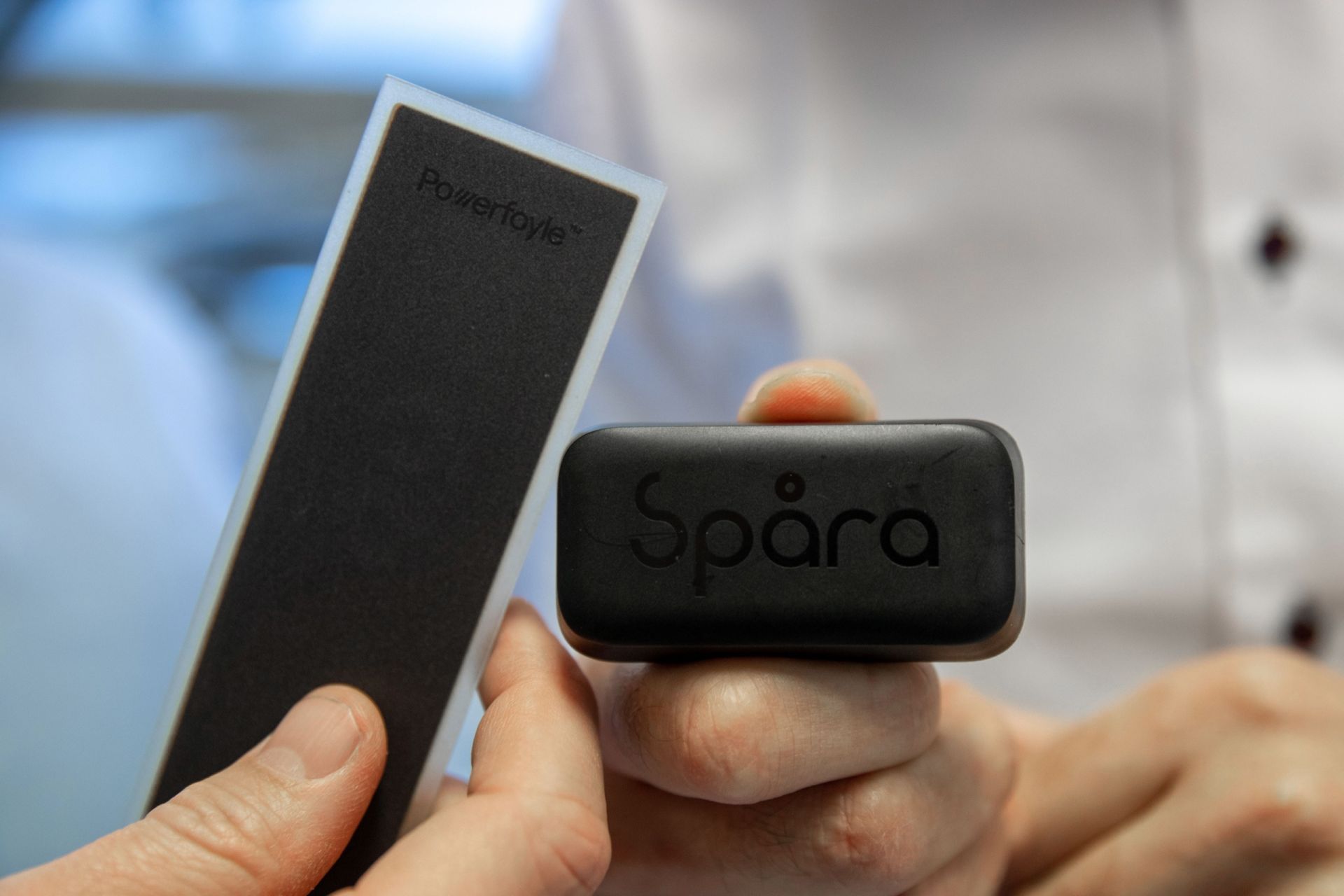 POC, the leading manufacturer of helmets for snow sports and cycling, has teamed up with Exeger to develop a smart helmet powered with endless energy. This is the beginning of a completely new concept for safety and wearable technology. POC's 'Whole helmet conceptTM' illustrates that a helmet can, and should, do scientifically more than manage impacts. Through the integration of digital solutions, helmets can protect the user before, during and after an accident. The possibility of providing helmets with endless power is key for unlocking new innovations for smarter and safer sports adventures.
"Integrating Powerfoyle opens a world of new opportunities, creating helmets with an endless power source"

POC CEO, Jonas Sjögren